Model TR4 1600w BBSHD 29ah

Model TR4 features the very powerful BBSHD Mid-Drive.
It is rated at 1000 watts and can be programmed to 1500 watts easily without the slightest effect on the lifespan of the motor.
This bikes purpose built light weight aluminum frame contains a huge 29 amp hour capacity battery providing up to 100+km range.
The Built into frame Mid-Drive is very efficient.  It has comparable torque as a 3000-5000w direct drive motorwheel. 160N.m of Torque.
Because it uses your chain and your bikes gearing it can be in low gear and climb steep hills or in high gear and have fast top speed.
Top Speed is 45-50kmh and it is 50-55+kmh if you unlock the full 30 amps that the built in sinewave motor controller is capable of. (Programming Cable can be purchased for $30 and very simple instructional video provided.
We can provide 52 Volt battery instead of typical 48 volt for same price which will increase speed about 2kmh.
UNLOCKING THE 1500 WATTS PROGRAMMING WILL NOT CAUSE THE MOTOR LIFESPAN TO DECREASE. Unless you run it constantly without break for long time and make the motor overheat. (easy to feel motor casing to see if it is cool. warm. pretty hot. or hot. and let cool for 5 min if hot)
Please see the Model TR5 if your want the better ultra torque sensing motor and full suspension.
SEVERAL COLOUR OPTIONS Including Black . Grey. Blue. and others also like below.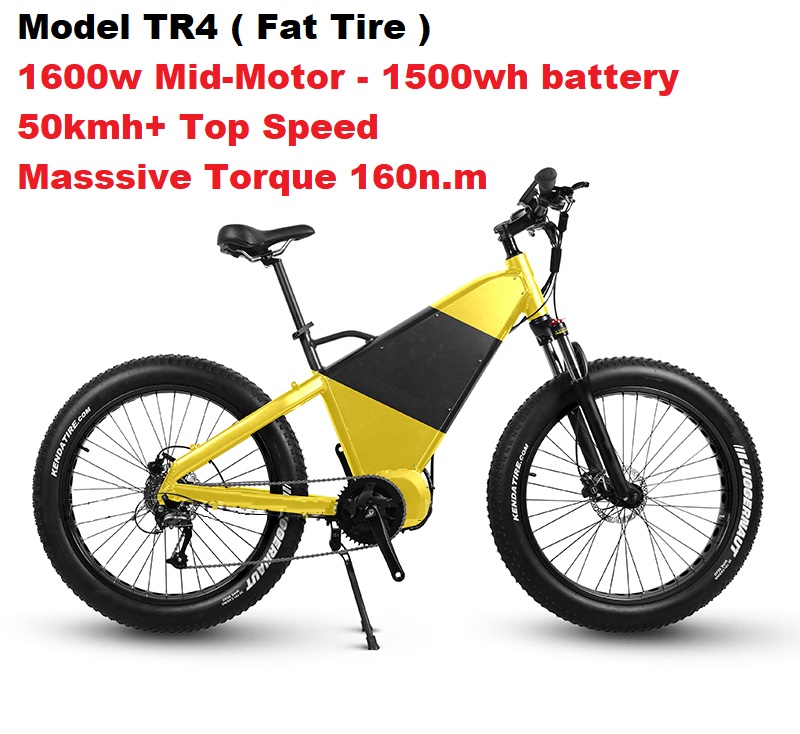 Contact for full specs / more info.
Contact to place an order.