Proud to introduce the most fun electric bike in the world.
The Model TR5 !
Featuring the Bafang Ultra mid-drive it has superior torque and hill climbing efficiency that compares to a 5000w direct drive motorwheel.
Top Rated (TR) everything.
Efficient, Light weight, Long Range and Powerful + Fast all while on rockshox air suspension.
TORQUE SENSOR'ED MID DRIVE !!
Torque sensored mid-drive
 knows exactly how much lbs of force you put onto the pedals. and can apply the instant power appropriately rewarding you to pedal harder, the feeling is really amazing like your superman. The pedal assist is much better than traditional cadence sensor which is based upon the speed of the rear wheel and will not have the same feeling.
You can adjust levels of pedal assist and also use throttle so you have complete control over the power and how its delivered!
Motor 
Latest Bafang Ultra Torque sensored Mid Drive 48v 1000w motor (Very capable of 1500 watts continuous.)

This is the higher quality big brother of the most powerful and reliable mid-drive on the market the bafang BBSHD. Which every DIY high power ebike guy knows about.

200-300% MORE POWER OF MOST POWERFUL BOSCH OR YAMAHA OR OTHER!!!

Battery
INDUSTRY LEADING RANGE !!! 48V 21ah LG Li-ion Battery —

1000 watt hours capacity!!

You can opt for smaller 17.5ah  Battery for $150 discount.

Battery can be unlocked to easily charge or to be taken with you or swapped out for a fully charged battery.

Spare battery is $1100 for 21ah 48v or 52v 17.5ah !

Controller
Bafang 48V30a Sinewave controller built-in
Display
Bafang Color LCD display
Charger
110-240v AC 50-60HZ,48V2A
Performance 
Max speed
 55 – 60 KMH
Travel distance
55 – 75 km by throttle,90km by PAS        ( varies greatly by power usage)
Charging time and life
Includes Fast Charger, 5 Amps

4 Hour charge to 90%

Load capacity
150kg maximum
Gross/Net weight
31kg with battery 26kg without battery.
Torque
160n.m highest in the industry !!
Hills
Climb the steepest hills and explore more trails. Good acceleration also!

Massive gear reduction of the Worlds most powerful and Reliable bafang ultra magnesium motor 1500 watts. This bike you do not need to assist the motor up hills!

And it can take you up long hills with ease which would burnout other motors..

Main components 
Frame
6061 Aluminimum Alloy, Multiple Colours available
Custom made for this specific MOTOR as well as functional rear suspension- Medium Large and Extra Large sizes.Black, White, Blue
Rim/Tires
CST 27.5*3.0 
Brake
TEKTRO HD E725 4-piston Hydraulic disc brakes with power cut function and Largest 203MM rotors – Very good brakes
Speed gears
Shimano ACERA 8 speed gears. Large range of gearing 11T up to 34T 

You can chose to upgrade to Shimano DEORE 10 speed gears for $200 extra.

This will allow for tiny bit extra hill climb power and tiny bit extra speed as well as tiny bit easier to pedal assist while at higher speeds.

Suspension
Rear shock: ROCKSHOX MONARCH 200*57mm air suspension —
Saddle
SR Brand Leather Sport saddle
Pedal
Wellgo alloy mountain style pedales
Front Fork
ROCKSHOX RECON Air suspension 150mm travel Very great front fork for nearly everything.

You can chose to upgrade to better front fork for $400 extra (this fork is great for rough riding, small jumps, etc)
If you are a heavier off-road trail rider this may be good to have.

ROCKSHOX YARI Air suspension 160mm travel –
Handlebar & Stem: Promax brand alloy mountain style
Throttle: Thumb throttle + the best pedal assist = full control over power / delivery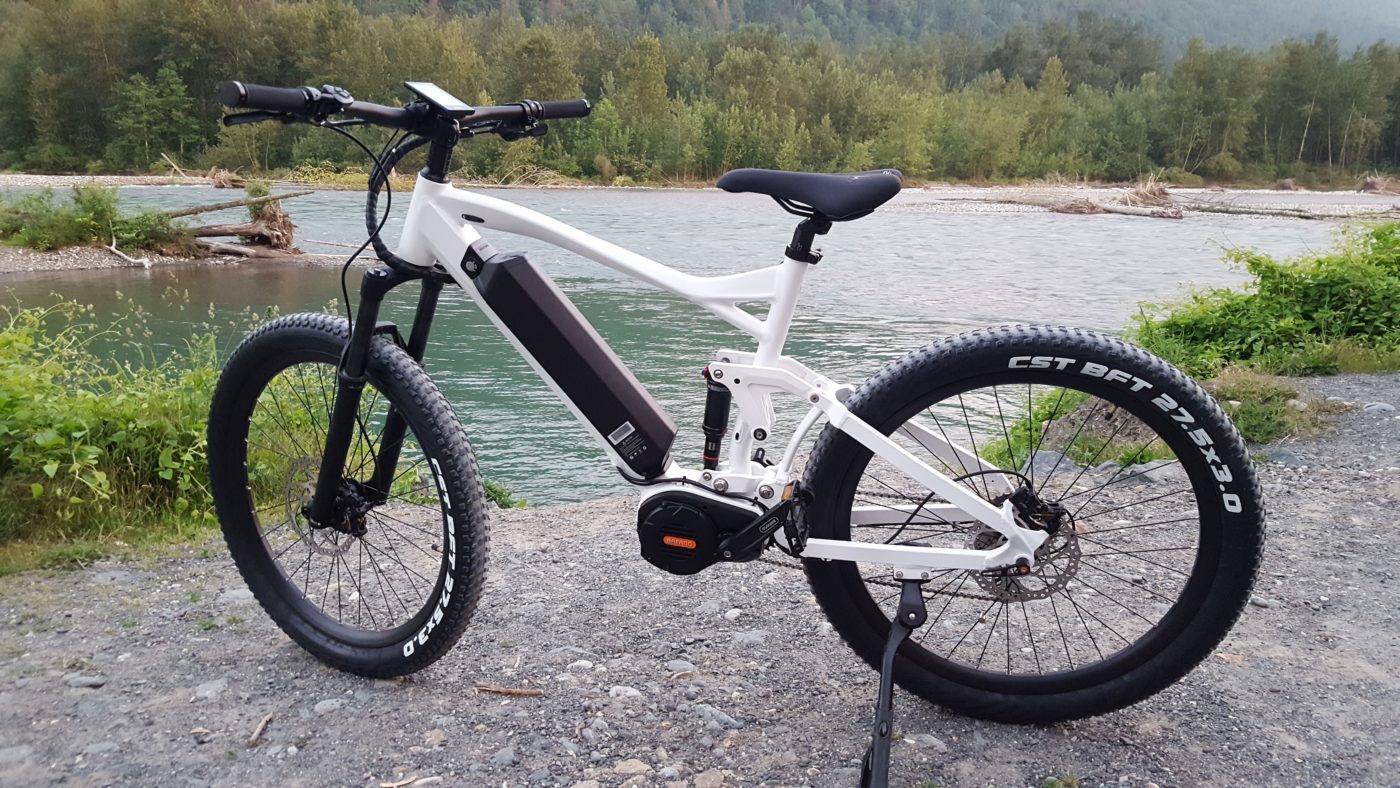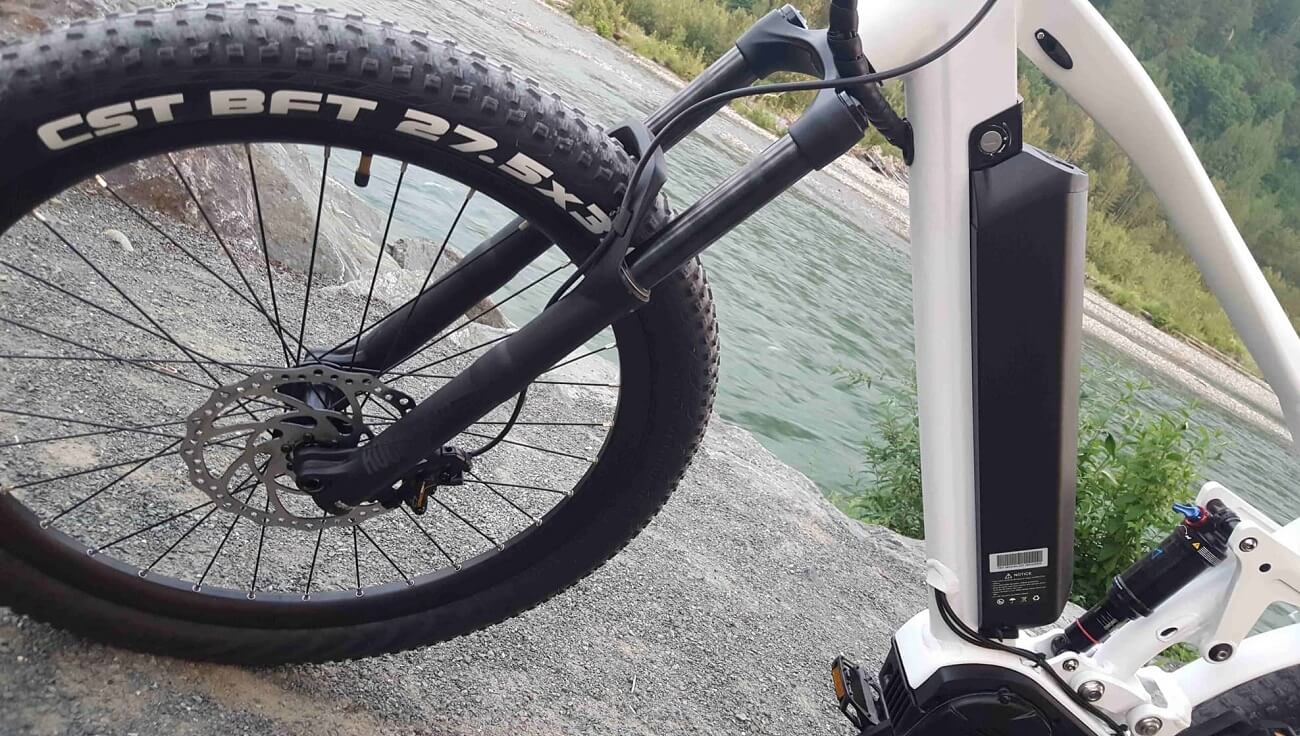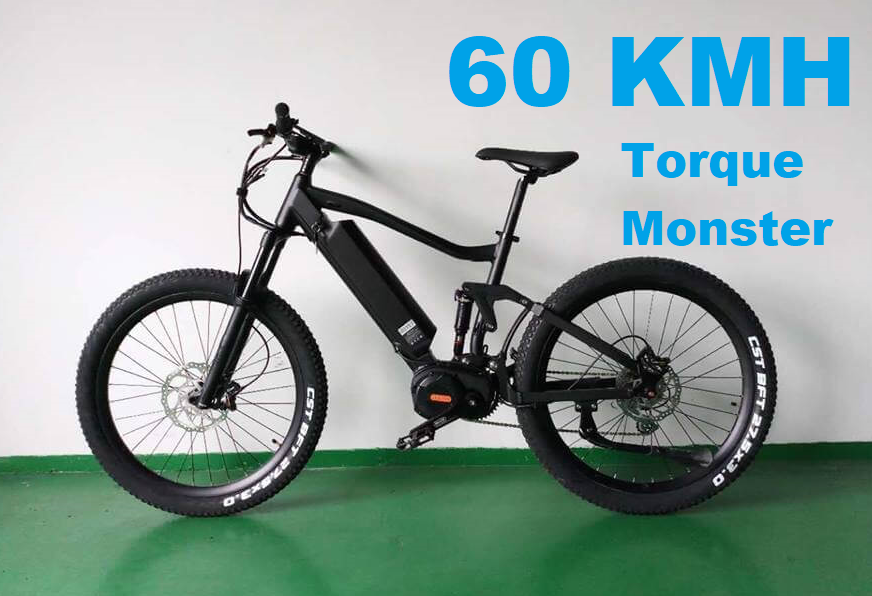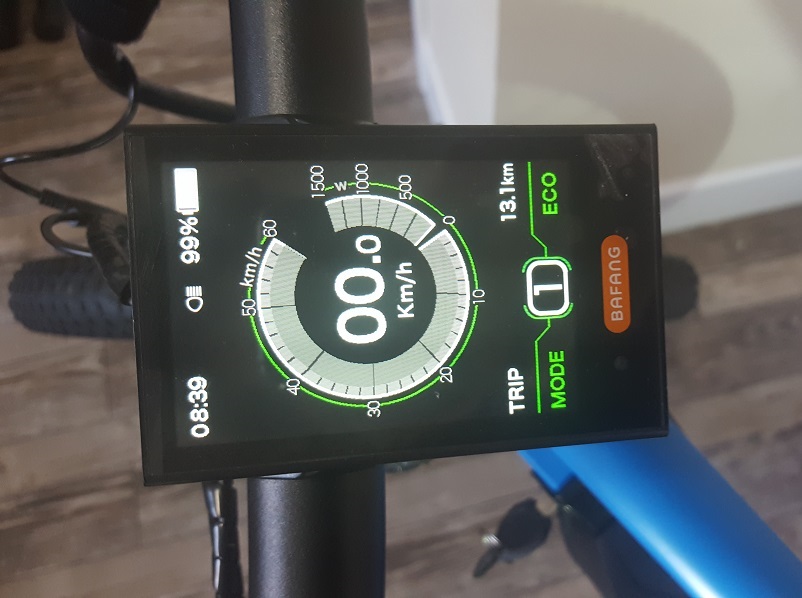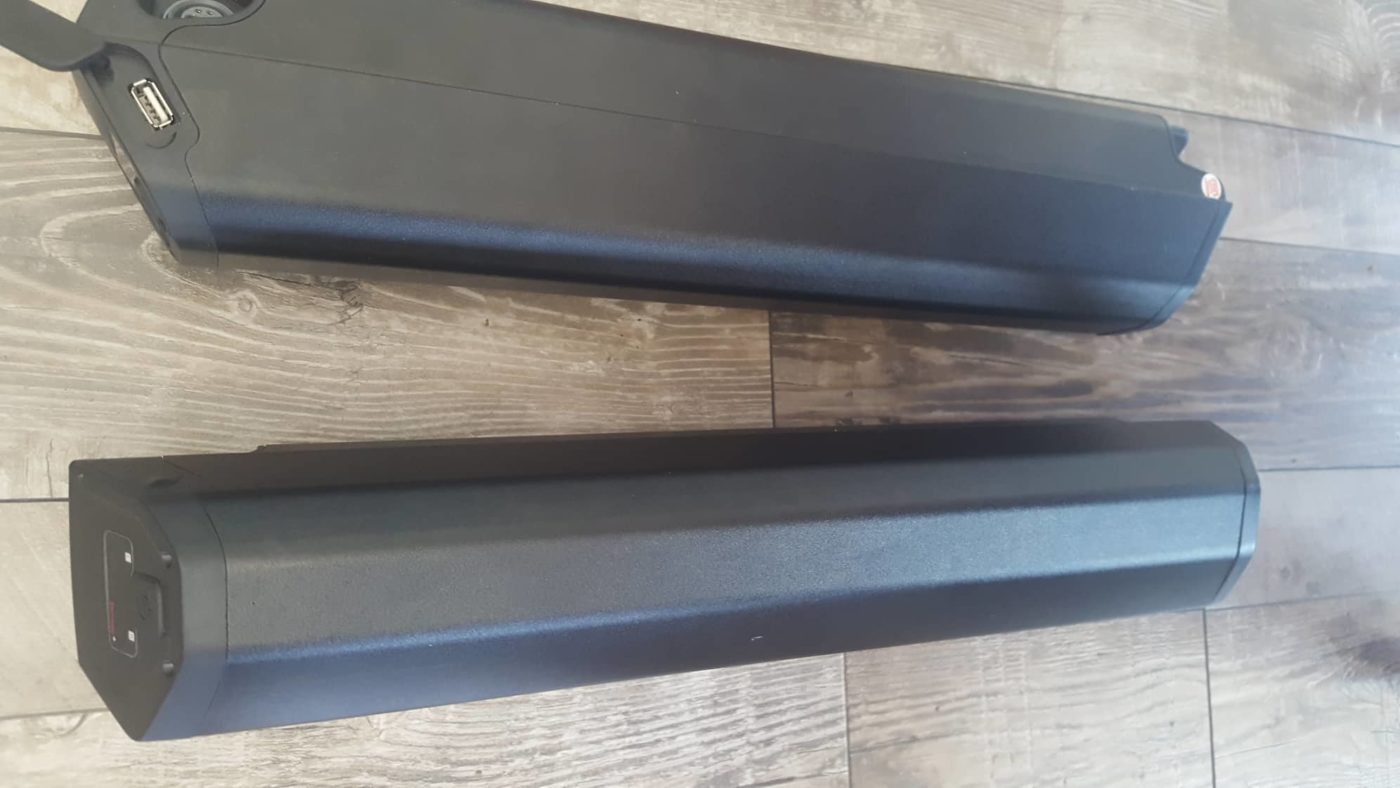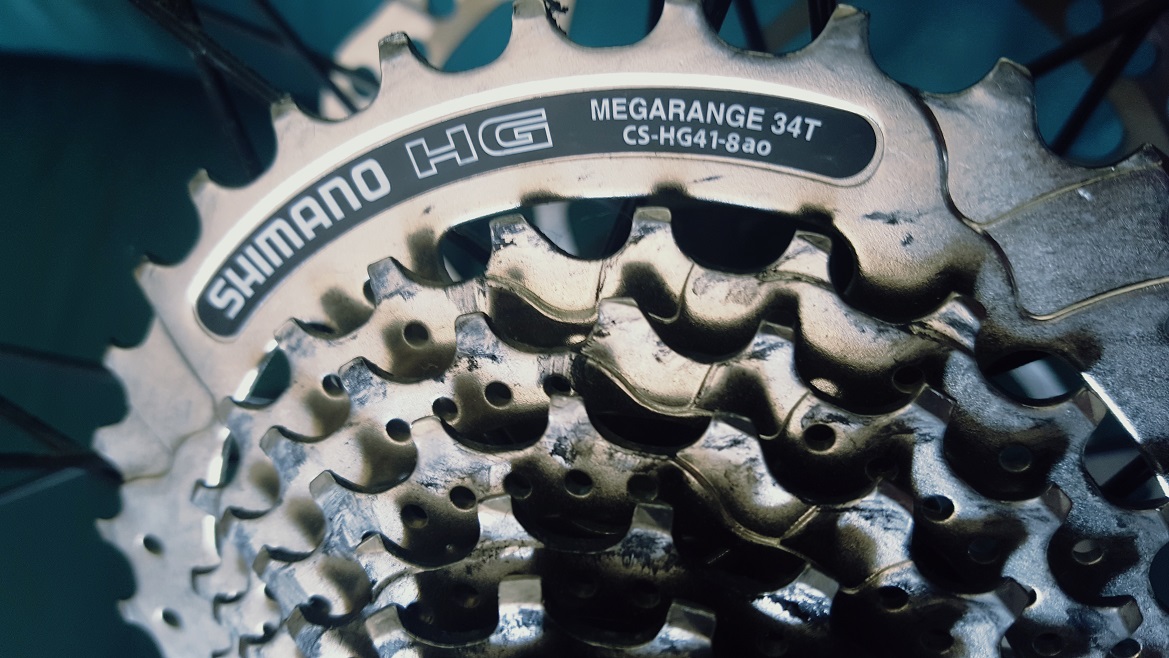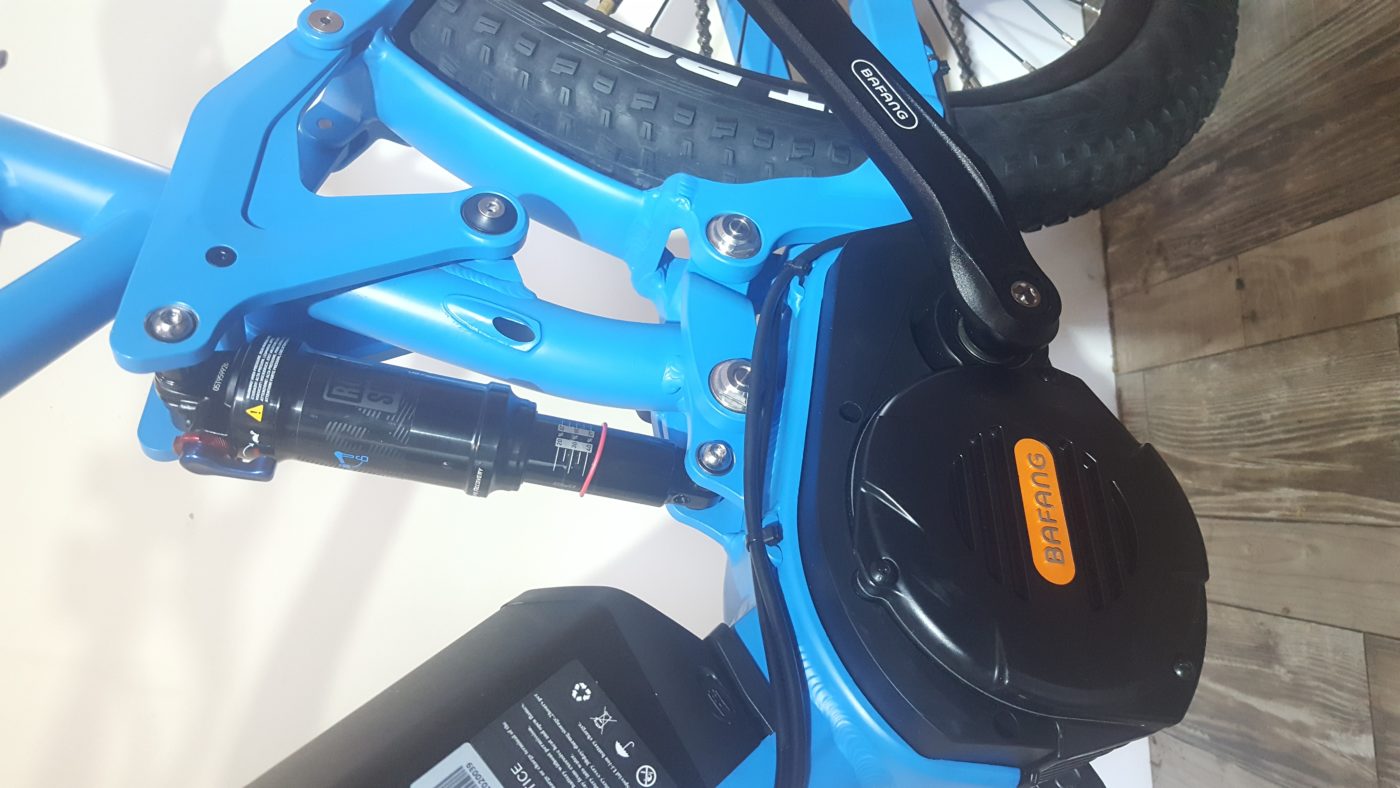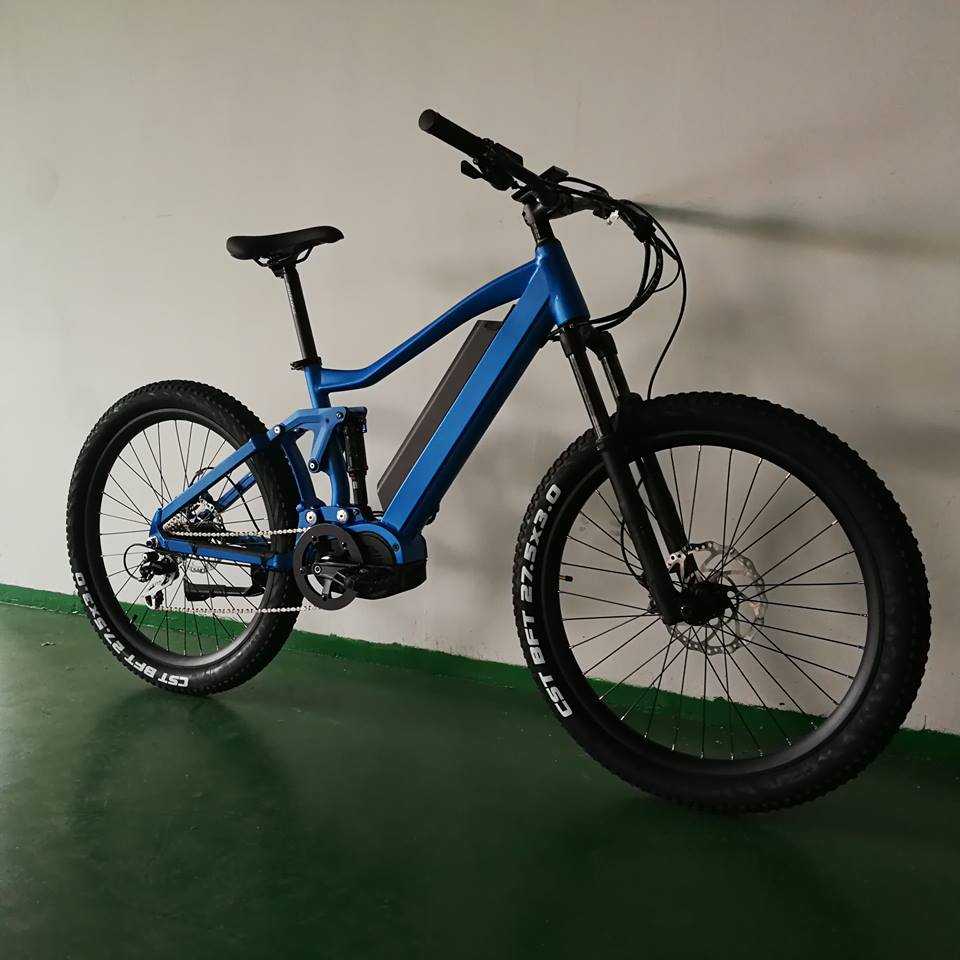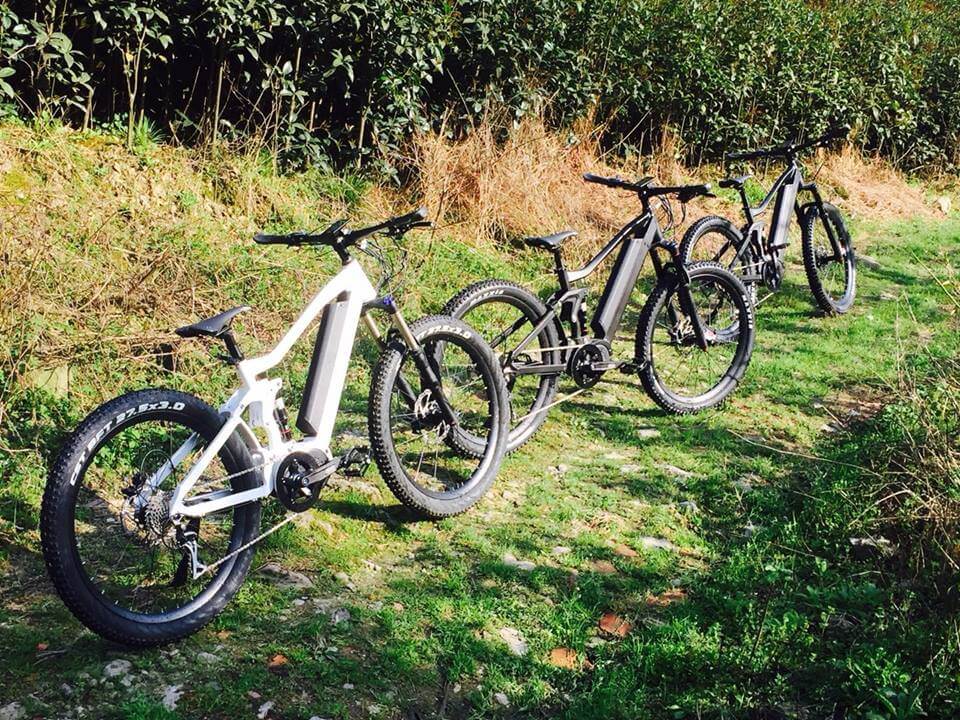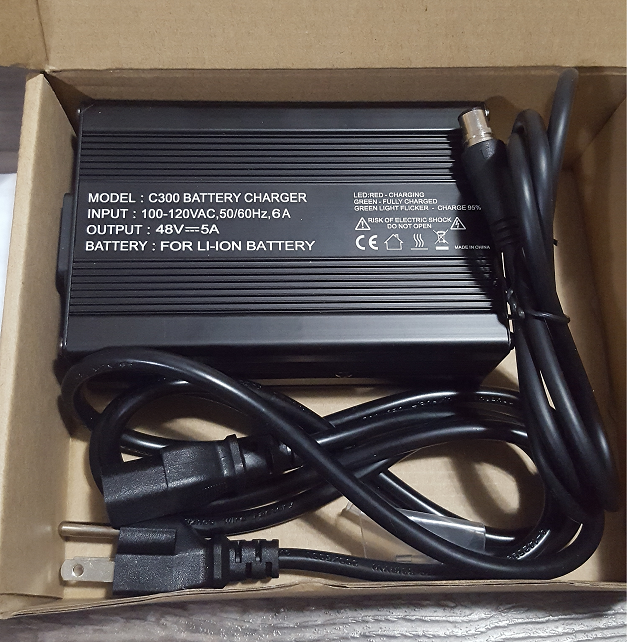 \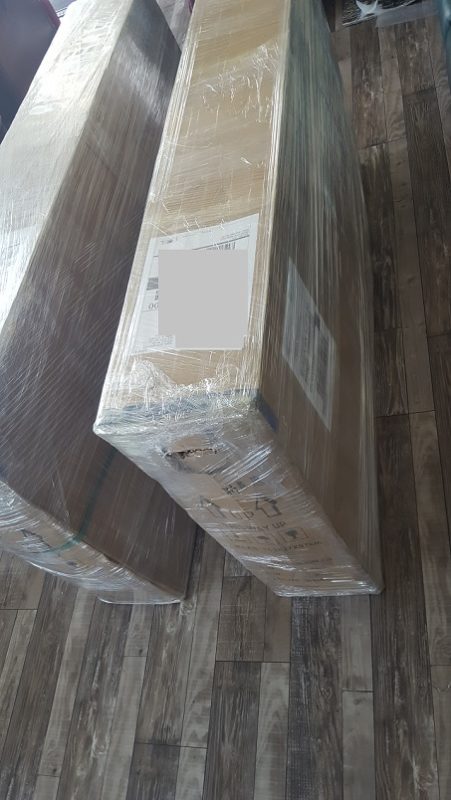 The Ultra has proven to be very high quality over several years of perfection from the previous version the bbshd. And as well it is easy to replace any part / work on. For example the built in sinewave 30 amp motor controller can easily be swapped if there is an issue. We use steel instead of nylon gear for best longevity.
The Industry has a new KING!!! The Bafangs newest and best motor yet ! Bigger and better than the previous Bafang BBSHD motor which is a bolt on style motor.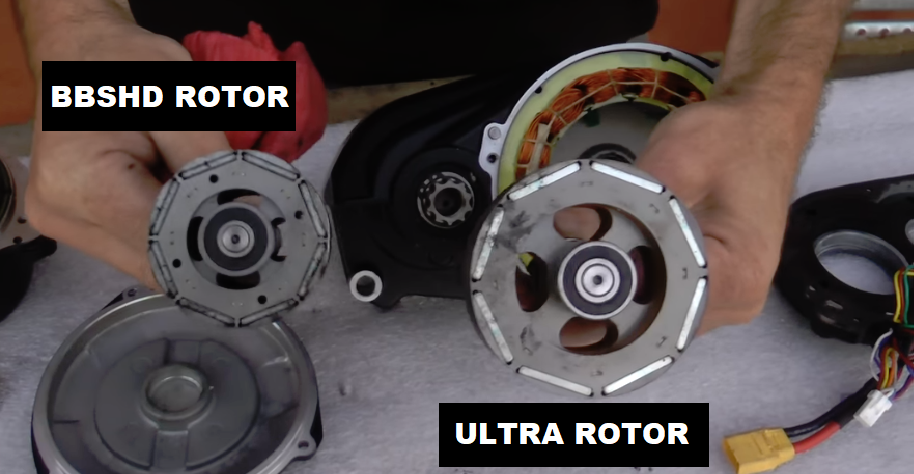 Below is showing our frames special suspension design.
The rear suspension works well unlike others we have tested.

Below is 2019 Brand New FAT TIRE Model of the TR5 ULTRA Mid-Drive featuring 26″ 4.5″ fat tires with purpose built unique frame for fat tires / bafang ultra motor / 21ah battery capacity / full suspension. Price is $200 less. Only Available in Large size. 

CONTACT FOR MORE INSIGHT AND TO PLACE AN ORDER.